Unified Mills Flour & Grain Bread Blend
Regular price
Sale price
$12.00
Unit price
per
Sale
Sold out
Looking for a rewarding, fun weekend project? Always wanted to try to shape your very own baguette? Or taste what makes New York rye stand out from all the rest? The Unified Mills Bread Blend set is the answer. These 2 blends include rye, spelt, buckwheat, whole wheat, and sifted bread flour -- all grown and milled in New York State! And you can buy them now as a set for one low price. Each comes with its own simple recipe, created by beloved Brooklyn bakery Runner & Stone. You'll get: 
Buckwheat Baguette Flour Blend
The perfect first baguette! This blend of 4 New York flours -- rye, buckwheat and local wheat varietals -- creates a dough that is easy to work with, has a rich, earthy flavor, and is packed with nutrients.  
550g Buckwheat Baguette Flour Blend
15% rye flour
15% whole wheat bread flour
10% buckwheat flour
60% sifted bread flour
AND 
Rye Miche Flour Blend
The rye in this signature miche from Runner & Stone is truly special, its warm spice and subtle tang permeating the soft crumb. It's no wonder New York is known for this delicious, hardy crop. Add to that the grassy brightness of spelt and the creamy, mild flavor of sifted wheat, and the result is a complex, aromatic loaf that will inspire and delight. 
577g Rye Miche Flour Blend
61% half white flour
23% spelt flour
16% rye flour
View full details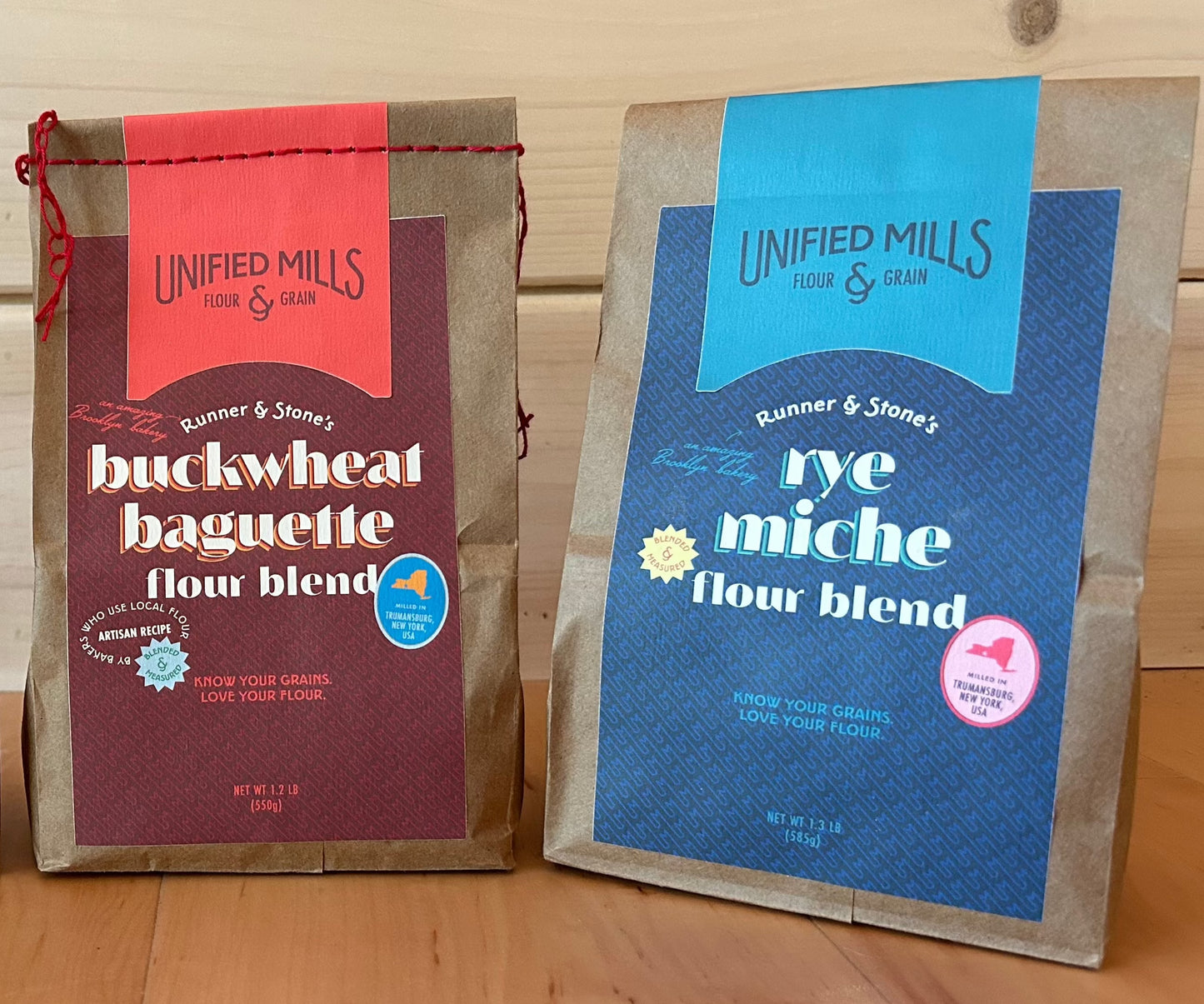 Know your flour.
The Miller

Farmer Ground Flour is an organic stone mill in the Finger Lakes region of NY that specializes in regional grains.

More on FGF coming soon.

The Baker

Runner & Stone is a beloved neighborhood restaurant and bakery in Gowanus, Brooklyn.

More on R&S coming soon.

The Grain

Buckwheat is a hardy grain well suited to the Northeast climate.

More on this earthy grain coming soon.